Hydrogen is rapidly evolving as one of the mainstream energy sources, thanks to the dedicated people spearheading its expansion. BayoTech is home to some of the industry's leading experts. We want to showcase the nuances of their work and highlight their contributions.
This time we spoke with Maria Apodaca, Director of Project Development at BayoTech.
Maria leads project development. Her role involves reviewing potential sites for building hydrogen production hubs and obtaining all necessary permits. Maria is responsible for managing every aspect of the project until it is ready for construction. She collaborates closely with engineering consultants to ensure all the required submittals are made on time. In addition to her professional accomplishments, Maria is a devoted mother of five children and an engaged volunteer in her community.
What factors does your team consider when selecting a site for a hub?
Maria: Our primary focus when selecting a location is to find communities that value sustainability and require access to affordable hydrogen. We also consider the demand for hydrogen in the nearby areas and prioritize communities that could benefit from its use, especially those concerned about environmental justice and air quality. Furthermore, we choose locations near seaports to facilitate logistics and support decarbonization efforts in the supply chain.
As we continue to grow, we have implemented different strategies. Ideally, we look for transport corridors or locations near major metropolitan areas where fleet companies are located. Our new process involves identifying companies who might need our services and building close to them. We mainly look for large-scale industrial sites. Additionally, we are seeking communities with the infrastructure to support hydrogen production.
What aspect of your daily work do you enjoy most?
Maria: I find the process of obtaining permits for hydrogen development to be quite engaging. It allows me to learn about the unique regulations in various communities. I also enjoy communicating the benefits of hydrogen to them. It's fascinating to consider the potential impact of hydrogen on our future. Even though this process is rigorous, I still thoroughly enjoy learning about different jurisdictions' diverse regulations and requirements.
Why BayoTech?
Maria: I am thrilled to be a part of an incredible company with a collaborative team spirit, where the brightest minds in the industry work together to create the infrastructure for the future of hydrogen.
It is exhilarating to be involved in the early stages of development and at the forefront of this new technology. Being a part of this is truly exciting, especially knowing that it will benefit future generations, our children, and their children.
As someone involved in the early stages of BayoTech, the efficiency, flexibility, and reliability we bring to the table inspires me. Understanding how our solutions are leading the way in the industry is stimulating.
It is also motivating to be a part of a company that values diversity. Bringing different perspectives and ideas to the table helps foster innovation within our industry. It's rare everywhere, but it's vital.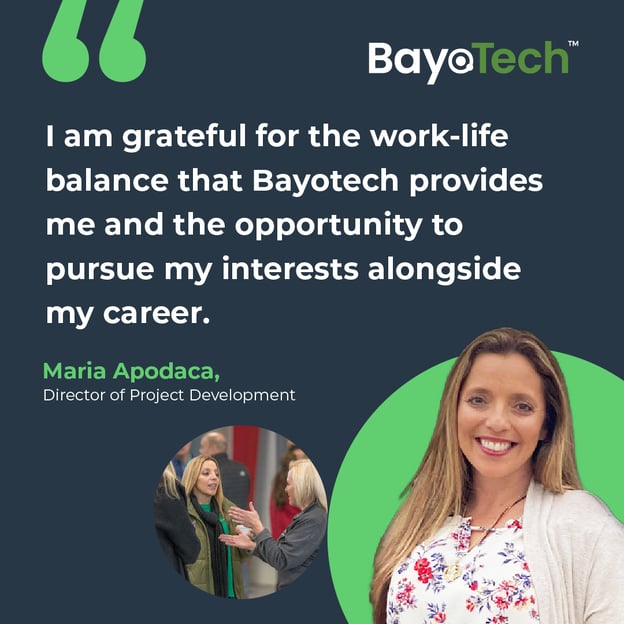 Any hobbies or passions outside of work?
Maria: Absolutely! I am a passionate lay missionary of the Sacred Heart organization in my free time. Serving in this capacity outside of my professional responsibilities brings me great joy. Another Organization that is closely related to the LMSC is Su Misericordia , a non-profit Mission group. We do mission work, and part of our mission is to support the Oaxacan Indians in Mexico.
I've been involved for about eight years and am a co-director of the school program. I love children and education, so we encourage kids to continue their studies and provide them with uniforms, scholarships, school supplies, and backpacks. We raise funds in America and go to Mexico four times yearly to support them. We also build homes for them and provide food.
Recently, I visited a large family living in a small home with no windows. The children dropped out of school due to COVID because they didn't have phones to attend virtual classes. We sent a tutor to teach the girls, and I eagerly await updates on their progress. It's fulfilling to become part of their family and support them.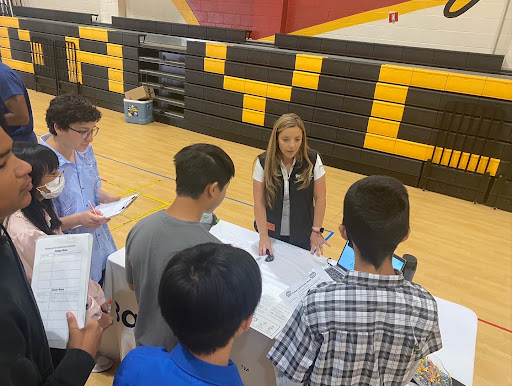 What is your opinion on the future of BayoTech and the hydrogen industry?
Maria: The industry is moving forward in giant steps, and its progress will only speed up in the future. It's impressive to see BayoTech leading the way in this development.
Hydrogen is cleaner, more secure, and affordable energy. The way BayoTech produces and distributes hydrogen also makes it more readily available. BayoTech is doing an exceptional job. Its involvement in creating the infrastructure for hydrogen has the potential to become a foundation for a sustainable economy.
I'm happy to be part of the team and help the company's mission to impact the world positively.
At Bayotech, we're always on the lookout for exceptional individuals to join our team. Take a look at our career page to explore the job opportunities we currently have available.