As the pressure to act on climate change builds, natural gas utilities are looking to hydrogen to support environmental initiatives. Blending hydrogen with natural gas creates a cleaner burning fuel and increases the renewable content of the gas delivered through natural gas infrastructure.
For more on this topic, I spoke with Gerald Weseen, New Mexico Gas Company's Vice President responsible for Regulatory, Strategy and External Affairs. BayoTech has partnered with New Mexico Gas Company to build the state's largest hydrogen production hub.
In this conversation, Gerald shares his views on the future of hydrogen blending in the natural gas utility space, how New Mexico Gas Company is implementing hydrogen into their system, and provides advice for other natural gas utilities considering hydrogen blending for their systems.

Tim Bahr: So, to kick things off, Gerald please introduce yourself and tell us about your area of expertise.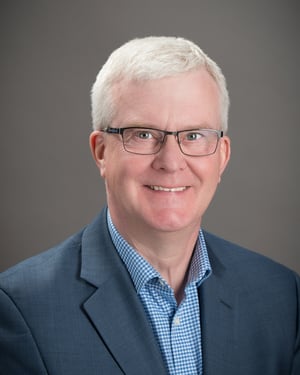 Gerald Weseen
Gerald Weseen: I'm responsible for regulatory strategy and external affairs for New Mexico Gas Company. I have accountability for business development and growth, as well as the company's greenhouse gas emissions reduction initiatives.

As we think about the future focus for our company, we're in a very dynamic and changing energy environment. It makes for very interesting dynamics, dealing with complex issues that lead to great conversations with smart people about the art of the possible. That includes both challenges and opportunities.

From a work perspective, that gets to one of my passions; building teams in the business to deal with change, evolving priorities and being agile inside a very structured traditional utility environment.

Tim Bahr: Tell us more about New Mexico Gas Company's sustainability initiatives

Gerald Weseen: We have initiatives on several fronts. They are primarily related to our operations. For example, we've had an aggressive strategy to reduce the waste from our day-to-day operations for a number of years. We've converted some of our vehicles fleet to compressed natural gas away from gasoline and diesel. It also involves things we're doing with our customers, like having an energy efficiency program to help customers use the product that we deliver to them more efficiently.

Tim Bahr: We're seeing a move to decarbonize the natural gas industry. How is New Mexico Gas Company planning on incorporating hydrogen into its operations?

Gerald Weseen: Hydrogen has potential on several fronts. Basically, from a natural gas distribution or delivery perspective, it has the potential to displace some of the natural gas in our existing supply to our customers. There's a limit to that with the upper end being about 20% hydrogen blended into our system without having to make many changes to our delivery system or the equipment our customers use.

Our initial focus is to determine our capacity to blend hydrogen and natural gas in our existing system. So, injecting hydrogen into the natural gas stream to displace natural gas but at a level where our customers don't need to make changes to their appliances or the infrastructure hat brings natural gas into their homes today. Our initial focus is about how much hydrogen we can deliver safely to our customers on the existing system.

There's a second part to that: are there things that we can do, because hydrogen is a gaseous fuel, to make our company be the distribution network? Is there a role for an existing gas utility or gas pipeline company in delivering hydrogen from the point of generation or creation to the end of use if they're not side-by-side?

I think about this in phases. Our first phase is, can we do this safely and at what levels, and what is the impact on our system? Phase two, what's the source of the hydrogen, and can we get to the lowest carbon alternative possible? Whether from carbon capture, if you have hydrogen produced from burning natural gas, or if you're using green hydrogen. What's the effect, and how do you get hydrogen from the source of creation into a pipeline system? And asking ourselves, as well as our customers and stakeholders, about our potential role in the hydrogen economy of the future.

Tim Bahr: What role are BayoTech products playing in New Mexico Gas Company's project?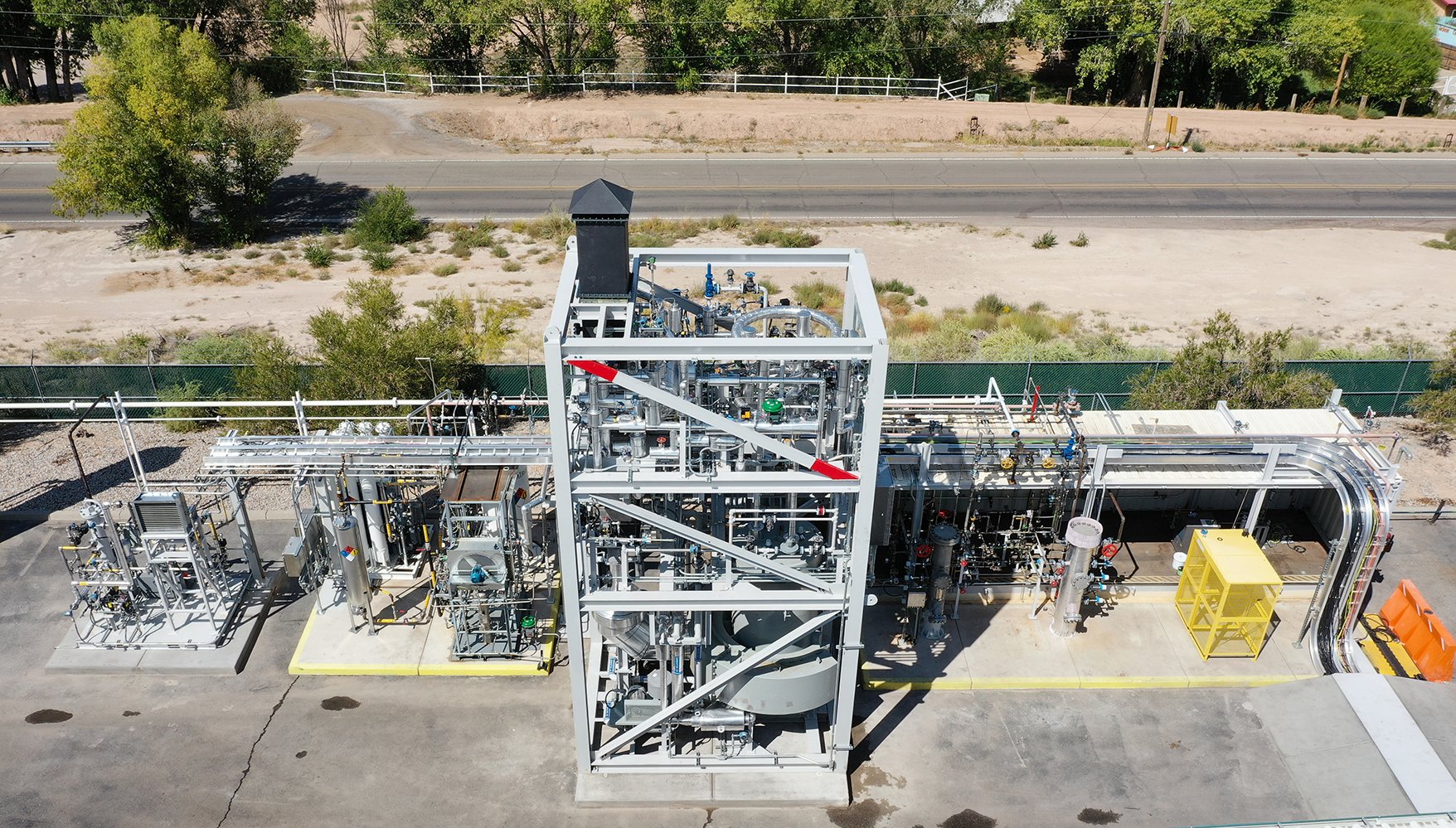 Pictured is the hydrogen production unit featured at BayoTech's Center of Excellence. A similar unit will be constructed at New Mexico Gas Companies facility and will produce the hydrogen used in their hydrogen blending process.
Gerald Weseen: So, two things right now. Our initial work has been to test small amounts of hydrogen in a closed system that doesn't serve customers. We're doing that at our training facility here in Albuquerque. Basically, we put a hydrogen and natural gas mix in a short pipeline of only a few hundred feet, connected to six meters and some appliances. We're doing tests to see the effect on the infrastructure and what happens when blended gas and hydrogen are used in those appliances. We're starting with a 5% blend, then 10% then 15%, probably going to 20% and maybe a bit further, in a system that does not serve customers, just for testing. For that phase, BayoTech provides a premixed blend of hydrogen and natural gas in cylinders.

Phase two, we plan to take the learnings from that piece of our work and deliver blended hydrogen and natural gas to a small number of customers on our existing distribution system. There will be isolation valves on either end of that testing area which will include several hundred residential and commercial customers. Again, we would be delivering the blended product in a controlled environment but on part of our existing distribution system. This phase of our pilot project involves the BayoTech H2-1000 that has been developed and tested at the Center of Excellence in Albuquerque. BayoTech is building one of those units at our service center so the hydrogen production will occur very close to the point of blending.
BayoTech is also working on potential carbon capture solutions for that production unit and, we hope we can be a good partner in helping to test and prove the efficacy of those solutions. We're very interested in learning the potential of carbon capture with the existing unit.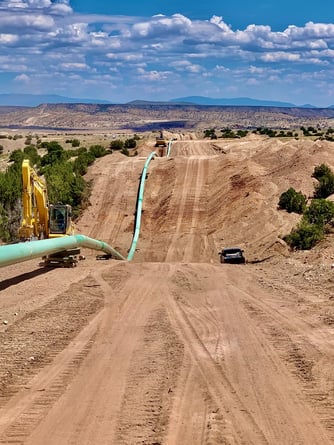 A section of 20-inch pipeline has been assembled and positioned, and now it awaits the work by excavators to open a trench for installation on the Santa Fe Mainline Looping Project near Budaghers, N.M., in July 2020.
Tim Bahr: Are there regulatory drivers that need to be in place to help natural gas utilities make the transition to hydrogen?

Gerald Weseen: Yes, many.

We are a regulated utility, with a specific mandate regarding the services we provide to our customers and the infrastructure we can build, own and operate. Doing what we do today, in a slightly different way, is relatively straightforward. But entering into a new area of service would not only require approval by the New Mexico Public Regulation Commission, but it might also require public policy direction.

The PRC does need to provide approval for capital expenditures that we propose to recover from our customers.

So yes, there are approvals to receive. There may be needed changes to the environment in which we operate, both in the near and long term, to enable a role for the gas company in a new or evolving hydrogen economy.

Tim Bahr: What advice would you give to other natural gas utilities looking to get started with a hydrogen program.

Gerald Weseen: The same advice I got when we started: to reach out to others who had already walked the path a bit. There are forums and projects across our country where people are collaborating. For example, the federal Department of Energy's HyBlend initiative which involves collaboration between national labs, several utilities and hydrogen-related companies. We have learned a lot by talking to other gas utilities who are either at the same point as us or a little ahead of us. We're also trying to be a resource for gas utilities who find themselves today where we were 8-10 months ago.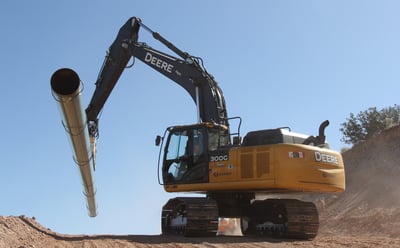 A trackhoe carries a 70-foot section of pipeline near Bernalillo, N.M., during the early weeks of the Santa Fe Mainline Looping Project in May 2020. New Mexico Gas Company installed a 20-inch pipeline along the route of the existing Santa Fe Mainline to create redundancy and to expand capacity for future growth in north-central New Mexico.

Tim Bahr: Is there anything else you'd like to tell our readers about hydrogen blending or New Mexico Gas Company?

Gerald Weseen: I'll start by saying something about BayoTech. We enjoyed our collaboration and we've learned a lot about hydrogen from the team at BayoTech, we value our partnership, and we learn every day from their team.

From a New Mexico Gas perspective, we're trying to take baby steps to identify the hydrogen art of the possible, to really understand each aspect as we go along. That means we advance things, pause, figure out what we've learned and where we're at, decide where we need to go from there, and then move on the next phase. It's very much a phased approach. I do believe our view of the art of the possible will be very different in three months that what we think today, and different still six months or a year after that because the hydrogen space is evolving so quickly. It's not only how we introduce hydrogen into the system we operate today but what we might be able to do in the future. What our customers might want us to do in the future. What we might be able to invest in in the future.

Tim Bahr: That's exciting to hear. Thank you for your time today, Gerald. There's a lot of really great insight into New Mexico Gas Company's project and I think a lot of other gas utilities exploring hydrogen will benefit from hearing all of it. Where can people find more information about New Mexico Gas Company?

Gerald Weseen: It was a pleasure. You can find more information about New Mexico Gas Company at https://www.nmgco.com/. Thanks for having me!